Thank you for joining us for the Anything Goes Challenge and we hope you will all join us again this week too.
This week the challenge is
Happy Birthday!
We are celebrating the Wednesday Challenge's 8th Birthday his week! Where has the time gone! They do say that time flies when you're having fun and we hope that you have as much fun with the challenges as we do! We all really appreciate YOU for joining in with us and we look forward to seeing your birthday themed entries!
This week we are showcasing our very own
Simon Says Stamp Products
. You don't have to use them for the challenge but if you have them we would love to see them used.
A birthday is always special and the lovely and very generous Heidi will be giving away not one, not two but
EIGHT
, yes
EIGHT
$50 Vouchers to shop at the fabulous
Simon Says Stamp Store
. Woo Hoo!!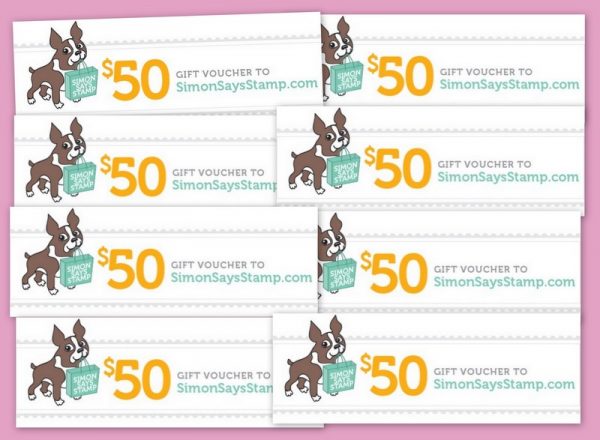 What a great chance of winning a prize, celebrate with us and join in with our Happy Birthday Challenge.
Can't believe I've been with the Simon Says Stamp Wednesday Challenge that long, WOW. I wish I had a bit more time on my hands to redo my card, the black part of sentiment is now annoying me. If I could work out how to unstick my bunny I would change it to blue. I think I was proving to myself I could stamp in different colours.!
I really wanted to use the sentiments on the
Some Bunny set
to prove it wasn't just for Easter but the there was a problem with the stamp. Now these things happen especially with the numbers that Simon Say Stamp sell. I always think its how you're treated when things goes wrong tells you how good the store is. So I got in touch with an e-mail to Customer Service, there was no quibble and another stamp set is winging its way over the ocean.
The paper are My Favourite Things
Merry and Bright
and I used the fabulous
Circle of Leaves
and the
Stitched Squares
from Simon Says Stamp. My flower is of course the
Stitched Daisies
from Simon says stamp and the little border its sitting on is made up with the
scallop stitched border
and stitched edge that comes with
Simon Says Stamp Bundle of shapes.
Now the tricky part, where did I get the sentiments from, I know they are all Simon Says Stamp. Right the sending you is from the
Love stamp set
and I worked out the rest came from the
Best Hugs stamp set.